Literary Agents
Literary agents are the key to getting a book deal with a traditional publisher like Random House, and this website is the ultimate guide to book agents… everything you ever wanted to know, and didn't know to ask. To thank you for visiting my site today, I'm giving you a free copy of my Literary Agents MP3 below.
Literary Agents – NY Times Bestselling Book Agent
My name is Mark Malatesta. I'm a former NY Times bestselling book agent and I have a confession to make. The #1 reason I became a publishing agent was to figure out how to get my own books published. So I know what you're going through as an author, and I know exactly what you need to do to get the attention of top book agents and publishers.
Get Your FREE Literary Agents MP3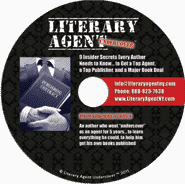 Enter your info below now to get your free mp3…
Literary Agents: 7 Insider Secrets
Every Author Needs to Know
During this training you're going to discover:
Why you must have an agent and how they really work (some of the things you learn are going to shock you)
3 types of literary agents and how you can find the right one for you
The most important thing that agents and publishers think about when they're considering your work
5 writer scams that could cost you thousands (or tens of thousands of dollars)
Why you can't think of yourself as an author (if you want to make a living as one)
The critical difference between good agents and great agents
Why you have only 8 seconds (yes, 8 seconds) to get an agent's attention
5 types of authors (and why it's so important that you know who they are)
Why most of the things you've learned about query letters is completely wrong
How you can get help from me personally 1-on-1
Enter your info below now to get your free mp3…
Email Marketing by iContact

Literary Agents – How to Use this Website
This website is organized into simple categories, so you can easily find what you need. And you'll find convenient links to every category on the main navigation bar at the top of every webpage (including this one). Here is a brief description of every category, with links to some of our more popular topics.
1. Guide to Book Agents
The Guide to Literary Agents section of the website is an introduction to publishing agents. You'll discover what book agents are and how they work; look at publishing agent pros and cons, and figure out if you need a book agent; learn the requirements for a book agent; find out how book agents get paid; discover why it's so difficult to get a publishing agent; and, most important, find out what you can do next to get a publishing agent.
2. List of Book Agents Categories
The List of Literary Agents Categories section will help you figure out which genre or category your book(s) fits into. If you don't assign a genre or category to your book, book agents won't trust you as an author. But there are many subtle variations when it comes to choosing the correct genre, and many authors often select the incorrect category. Make sure you choose the right category so can submit your book to the right literary agents, and they'll be more likely to represent you.
3. Finding a Book Agent
The Finding a Literary Agent section will tell you everything you need to know to find book agents. How do you find literary agents? What about established literary agents or literary agents looking for new writers? What are some of the most common mistakes authors make when trying to find a publishing agent. How do you choose a publishing agent? And much more.
4. Getting a Book Agent
The Getting a Literary Agent section will show you what to do once you've found literary agents that are likely to be interested in your book. Visit this section to find out what a publishing agent query letter is and how to format an email query for book agents. Find out about publishing agent turnaround times, publishing agent feedback, and much more… everything you need to know about how to get a publishing agent.
5. Hiring a Book Agent
The Hiring a Literary Agent section has information that you'll find useful once you have literary agents interested in representing you. You'll find questions to ask a publishing agent, as well as information to help you with your publishing agent agreement or book agent contract. You'll even find articles about how to leave your publishing agent or how to fire your publishing agent.
6. Ask a Literary Agent
The Ask a Literary Agent section is where you can ask me questions about book agents. Is it easier to find a publishing agent or a publishing house? What is the average number of rejections from query letters to literary agents? How do I find publishers who will accept a manuscript without a publishing agent? What if I want a publishing agent to review my publishing rights? No question is too big or too small.
7. Coaching Services for Authors
The Book Marketing section reveals three different ways (free to fee) that you can work with Mark Malatesta as your book marketing coach. Mark's authors have gotten six-figure advances, been on the NY Times bestseller list, gotten picked up for television and feature film, won countless awards, and been licensed in more than 30 countries.
8. Book Agent Blog
The Literary Agent Blog section contains articles about writing and getting published that don't fit nicely into one of the other sections on this website. Usually that means they contain valuable information for authors, but they don't have anything to do with book agents. For example, you'll find articles to help you decide if you should self-publish; articles to help you improve your writing; and information/inspiration to help you improve your mindset.
9. Directory of Book Agents
The Directory of Literary Agents section has reviews of the most popular literary agent directories in print and online. But it also contains the most comprehensive (and accurate) directory of literary agents in the world, so you won't have to go anywhere else. You can do all of your agent research right here on this website. I created this publishing agent directory personally. It identifies every book category that each publishing agent is interested in. It has detailed book agent bios written by the agents themselves. And it has photos of the agents.
10. Most Searched Book Agents
The Literary Agents List section features some of most popular literary agents. Here you'll find even more personal and professional information about literary agents like: Susan Crawford, Amanda Binky Urban, Sam Fleishman, and Susan Schulman. Finding the best publishing agent for you is a lot like finding your soul mate. So the more you know up front, the more likely it is that your "marriage" will be one made in heaven.
11. US Book Agents / Book Agents USA
The US Literary Agents section is part of my literary agent directory (above). It will let you find American literary agents sorted by city or state. You'll even be able to see which cities and states have the highest concentration of literary agents. Of course, you probably already know that most literary agents are in New York. But which states have the most literary agents after that? Who knows, there might be literary agents in your neighborhood just waiting for you to query them!
12. International Book Agents
The International Literary Agents section is part of my publishing agent directory as well. It's similar to the US Literary Agents section (above), except here you'll find listings like literary agents UK, literary agents Australia, Canadian literary agents, etc. But, before you start looking for an international publishing agent, I want you to know that international authors can get literary agents in the US. Just because you live outside of the USA, doesn't mean you need an international publishing agent.
13. The Best Book Agents
The Best Literary Agent section has information about top literary agents and bad literary agents. Who is the best publishing agent in America, the best book agent of all time, and the best publishing agent for you and your book? Maybe you want to know the best literary agents for children's books. Visit this section to find out. You'll find a list of top literary agents, details on recommended agents, and info on literary agents charging reading fees (and doing other unscrupulous things).
14. Book Agents' Guild (AAR)
The Association of Authors' Representatives (AAR) section will help you understand what the AAR is all about. This literary agent association is the only organization that governs the activities of literary agents, and there are several requirements for membership, so it's best if your publishing agent is a member. AAR members are required to abide by a strict code of ethics. During my time as a book agent, I was a proud member of the AAR.
15. Writers' Resources
The Writers' Resources section contains even more information and inspiration to help you get a publishing agent. Here you'll find audio programs, publishing agent interviews, and publishing agent articles. But you'll also find recommendations for other author resources like the best books for writers, the best websites for writers, and publishing agent blogs.
Now that you've "taken the tour" …pick up your gift. Get instant access to my free mp3 recording Literary Agents: 7 Insider Secrets Every Author Needs to Know… scroll up to the top of this webpage and enter your info.
See you on the recording,
Mark Malatesta
Your "Undercover Agent"